Bangladesh's Biman to buy 8 Boeing planes for 1.26 billion dollars
Bangladesh's ailing national carrier Biman will buy eight new Boeing aircraft for 1.26 billion dollars as part of a fleet overhaul to help make the airline profitable, a minister said on Monday.
"We want to give a new face to Biman," Civil Aviation Minister Mahbub Jamil told reporters.
US planemaker Boeing edged out European rival Airbus for the contract to supply the planes to state-owned Biman, which has been posting huge financial losses and is facing fierce competition from smaller, private rivals.
"Biman's board has decided to procure four Boeing 777-300ER and four 787-8 aircraft as part of the fleet overhaul," the minister said.
"Our aim is to make Biman profitable by the next financial year. Already we hope it will break even this year... as we've made it more efficient," he said.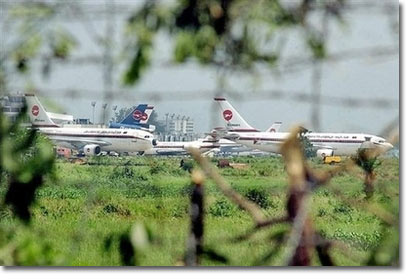 The eight aircraft will bring Biman Bangladesh Airline Ltd's fleet strength to 20.
Biman has already laid off 2,000 workers, plans to axe 2,000 more posts and has suspended eight loss-making international flights and four domestic routes under its restructuring drive.
"The eight new aircraft will cost 1.26 billion dollars with each 777-300ER costing 182 million dollars and 787-8 plane 133 million dollars. We'll sign a preliminary agreement by March 15. A final deal will be signed by April 15," Jamil said.
Boeing will hand over the 463-seat 777-3003R between July and August 2013 and the 294-seat 787-8 between July-December 2017, Jamil said.
Biman's board reviewed bids from both Airbus and Boeing, but chose the US company as it proposed to train pilots, upgrade airports and help in engineering and marketing for Biman as part of the deal, Jamil said.
"But Biman will negotiate with Airbus next month for procuring short-haul aircraft," he said.
Biman posted a record loss of more than 120 million dollars for the financial year ending June 2006 and is expected to announce a 100 million dollar loss for the following financial year on soaring global fuel prices and higher-than-expected maintenance costs.
"It's the first time in Biman's 35-year history that the national flag carrier is purchasing aircraft directly from the manufacturer and it's being done transparently," Jamil said.
Critics have said prevous aircraft purchase deals were shady.
Bangladesh's military-backed government took power in January 2007, pledging to clean up the country's notorious corruption before reinstating democracy later this year.
The national carrier started in 1972 with a vintage Dakota DC-3 aircraft, less than a month after the South Asian nation won independence from Pakistan. Its current fleet includes five 20-year-old DC-10 planes which officials say must be replaced within a few years.
Before the new planes are delivered, Boeing will lease Biman four used 777-300 ER in 2009 and 2010 and four used 787-8 in 2011-12 to help the airline cope with a growing passenger load.
Jamil said the Boeing plane purchases will be financed by the US Export-Import Bank and a syndicate of local banks.
http://news.yahoo.com/s/afp/20080310/wl_sthasia_afp/bangladeshusairlineb...