Crime & Punishment, No 13 - Mirza Abbas
Mirza Abbas jailed for 8 yrs for tax evasion
May 12, 2008 - 1:23am BDT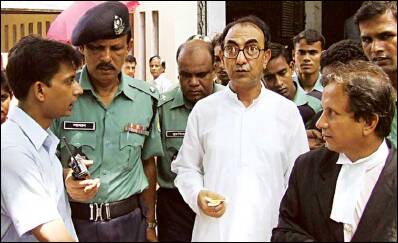 Former minister Mirza Abbas was on Sunday jailed for eight years for dodging taxes of Tk 59.79 lakh and concealing wealth information.
Shahed Nooruddin, the judge of the special judge's court-3 set up in the Jatiya Sangsad complex, also ordered confiscation of his assets of Tk 57 lakh and fined him Tk 57 lakh. The court sentenced him to three years' rigorous imprisonment for hiding asset information in his income tax files and five more years for dodging tax. As the two sentences will go concurrently, the accused will have to serve five years altogether.
National Board of Revenue filed the case on August 5, 2007 accusing Abbas of evading tax of Tk 59.79 lakh on Tk 2.25 crore. This is the first verdict against Abbasin a case since his arrest on February 25, 2007. The housing and public works minister of Khaleda Zia's cabinet between 2001 and 2006 is facing some more cases on different charges.
His wife Afroza Abbas was jailed on September 2, 2007 for 16 years in absentia in two tax evasion cases.