Crime & Punishment, No 10 - Lalu Talukdar & Family
Ex-MP Lalu, wife jailed
April 29, 2008
10 Years Behind Bar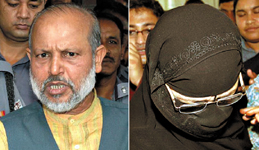 A special court here yesterday sentenced former BNP lawmaker Helaluzzaman Talukder Lalu to 10 years' simple imprisonment for amassing wealth beyond known sources of income and concealing information on his wealth.
The court also ordered confiscation of Tk 1.75 crore of Lalu, and sentenced his wife, Shamsunnahar Zaman, to three years in jail and ordered confiscation of her Tk 56.91 lakh.
Lalu and his wife were present in the dock when the verdicts were pronounced.
Ashish Kumar Kundu, assistant director of Anti-Corruption Commission (ACC), filed a case against Lalu and his wife with Sadar thana on September 6 last year.
After investigation, the ACC found that Lalu has Tk 1.75 crore beyond his known sources income and another Tk 56.91 lakh by his wife, Shamsunnahar, beyond the wealth statement submitted to the ACC. After examining records and witnesses, Judge Anwar Hossain of the special judge court handed down the verdicts in a crowded court.
Earlier, another court had sentenced Lalu to five years in prison for illegally setting up a wireless tower.
The joint forces arrested Lalu from his Bogra residence on February 13 last year.